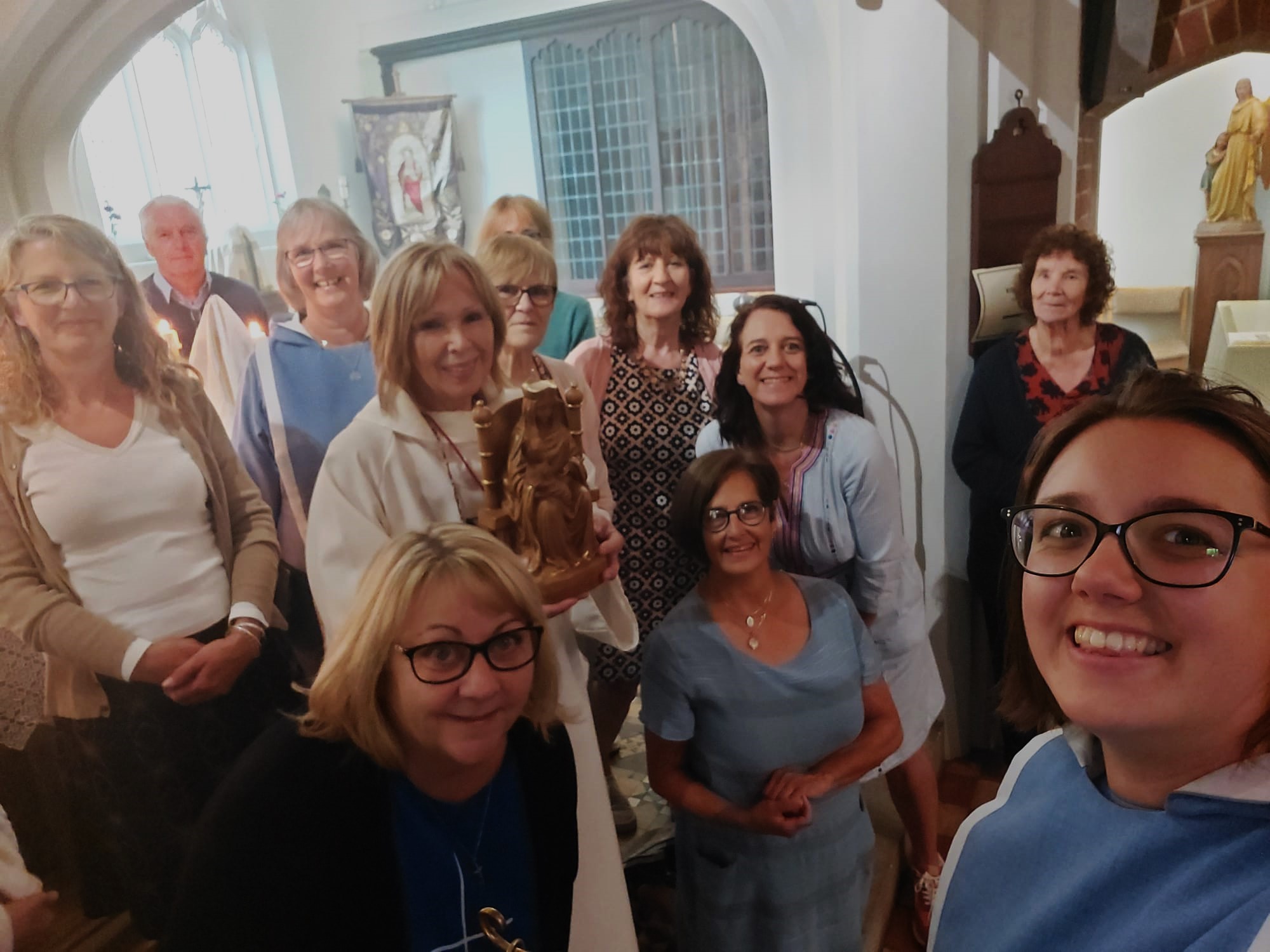 LIVING IN THE JOY OF WALSINGHAM
Last Saturday, September 9th, parishioners from our three mass centres gathered again in St Dominic's room for the third and last retreat of our Consecration Programme. Sr Camilla and Sr Catherine, from the Community of Our Lady of Walsingham, shared with us how 'Living in the Joy of Walsingham' is possible in the midst of difficulties and disappointments, pain and illness.
The Joy of Walsingham is deeper than the 'happiness' the world demands us to have. It is not a joy based on emotions or feelings. This joy is deeper than that. It is found within us, and it is not dependent on how well things are going for us in life. It is neither a temporary, superficial 'happiness' but a deep, constant estate of inner peace and calm within. While the storms might be blowing on the outside causing us pain on the way, the 'spiritual joy' becomes the source of strength that steadies the ship and keeps us calm amid the stormy winds.
Sr Camilla explained that this joy is born from a life of prayer and an attitude of gratitude. A life of attentive prayer allows us to hear the voice of Jesus and his wisdom. It also brings us into a more personal and intimate relationship with Jesus. No longer a distant God to whom we pay our duty by attending Mass or saying a few prayers. But a God that is waiting for us within ready to speak words of love directly into our hearts. A life of prayer in which we can say, 'speak Lord your servant is listening' instead of 'listen Lord your servant is speaking!'.
Then, Sr Camilla introduced us to a wider and more challenging concept of gratitude: most of us are grateful for all the good things we receive every day, but can we be grateful for all challenges, illnesses, pain and disappointments that come our way throughout our life? Can we say thank you Lord for my lack of health? Thank you, Lord because I didn't get the job or school I wanted? Thank you, Lord for not having the money to go on holiday or the time to rest when I am exhausted? Thank you Lord because I am not accepted by others or my work is not recognised and praised? Thank you Lord because I am not popular, liked or loved by others? Accepting sorrows and recognising them as gifts and opportunities to get closer to God is the source of joy.
Sr Camilla emphasized that if we could all give thanks for the good and the bad things that come our way 'today', if we can surrender our desires and expectations and just be grateful for whatever we have or lack, because we are full of everything in the Lord, then we will be living in the Joy of Walsingham. Like Mary, we know that what we receive today, is only an outpour of love from our Lord who is preparing us, like a good Father, to grow into the person that he always wanted us to be: FREE TO BE ONE WITH HIM! The journey begins here, but it is only completed when we leave our humanity behind.
Some of the Feedback received from participants:
'The days were wonderful and gave me such a lot to think about!'
'Very informative and inclusive. I enjoyed the content and found it to be highly insightful. It has encouraged me to consider a better approach to prayer and to be thankful for everything.'
'It has been a true eye opener and heart opener to learn about the joy and thanksgiving. I feel this really will help me with my family life, my relationships, my children. Learning to give thanks even through the difficult times and hardships in life and when things go wrong or not the way we want or anticipated.'
'Perfect pace and agenda. Have the videos, stories, personal insights from the sisters and the opportunity for comments and questions. Just brilliant! Thank you!'
'Well run. Made me think more deeply about things.'
'Both sisters were amazing and inspiring, your love and passion shines through. Thank you very much, I really feel spirituality enriched!'
---
---
---